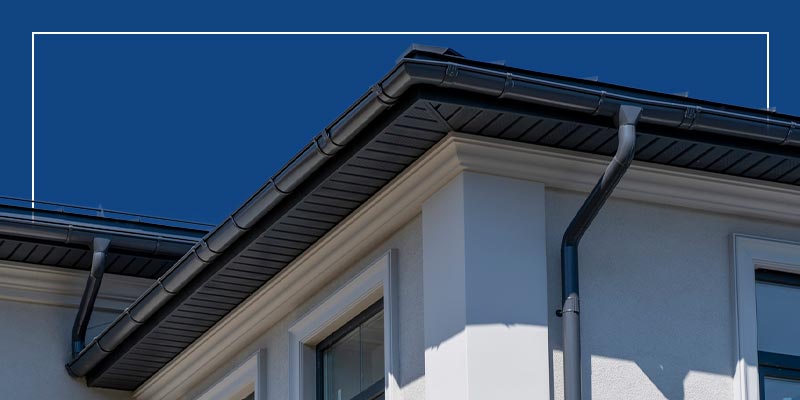 Gutters divert rainfall and melted snow away from your home to protect it from water damage. Even high-quality gutters need regular cleaning, maintenance and eventual replacement. While a well-maintained gutter system can typically last years, its life span depends on various factors.
Cracked or clogged gutters can allow water to flow onto your roof, your home's exterior walls, your landscape and even inside your basement. Your home needs a high-quality, clean gutter system to remain safe from rainfall and melting snow. Quality gutter systems have a long expected life span, but their longevity depends on how well you take care of them.
Debris, abrasive chemicals and cracks can shorten a gutter system's life span, so it's important to protect your system from potential damage. You can protect your home by scheduling regular gutter cleanings and replacing your system when you notice signs of bad gutters. Continue reading to learn how to keep your home safe and your gutter system functioning properly.
The Purpose of Gutters
The purpose of gutters is to keep as much water off of a house as possible by collecting rainwater that falls on the roof. Water travels down gutters and into a drainage system or the ground so your house is safe from water damage.
Gutters protect a home's roof, exterior walls and foundation from damage. With well-maintained gutters, you can prevent issues such as leaks, basement flooding, mold and foundation cracks. They can also help you divert water to and from specific areas of your yard.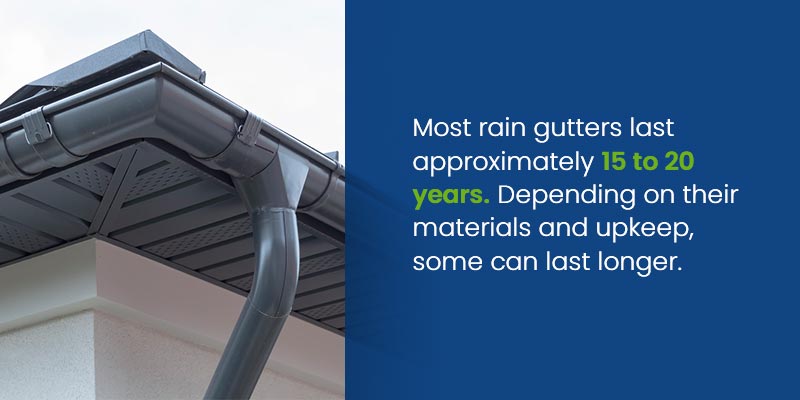 The Life Span of Your Gutter System
Most rain gutters last approximately 15 to 20 years. Depending on their materials and upkeep, some can last longer. Some simple measures can help prolong your gutter system's life span, and scheduling regular cleanings from a reputable company lets you receive professional advice about when you should replace your gutters.
Neglecting gutters can cause water damage to your home and property, so it's important to care for your gutter system. Watch for signs of damage so you can replace them when needed to ensure your home remains protected.
Gutter systems need to be replaced when they become damaged or have reached or exceeded their life span. Even high-quality gutters need to be regularly maintained and replaced after a number of years.
Factors That Affect Gutter Life Spans
A gutter system's life span can vary based on different factors. If you've recently purchased your home and don't know your gutter system's approximate age, visually assess their condition from the ground and consider scheduling professional help to determine the next steps.
A gutter's expected life span can decrease due to the following:
Leaves: Decaying leaves can release nitrogen into gutters and corrode their materials.
Abrasive chemicals: Cleaning a house's roof or exterior walls with abrasive chemicals can corrode gutters.
Mud: When collected rainwater and dust combine, mud can form and obstruct a gutter, restricting water flow.
Cracks: Cracks weaken gutters and cause water leaks. Leaning a ladder or any other objects against gutters can damage them and reduce their life span.
Material: Gutters made of stronger materials last longer than other gutters.
To increase your gutters' life span, keep them clear of damaging debris and substances such as leaves, mud and abrasive chemicals. Choosing gutters made of durable material and taking care of them to prevent cracks can also help them last longer. If you are installing gutters, you can choose between the following materials:
Aluminum: Aluminum gutters are an excellent choice because they are budget-friendly and can protect your home for decades.
Galvanized steel: Galvanized steel is coated with a layer of zinc that prevents rust, helping them last a long time. Since steel is heavier than materials like aluminum, always consult a professional about proper gutter installation and sizing recommendations for your home.
Copper: Copper also has a rust-resistant coating and is considered a stylish gutter material. Well-maintained copper gutters can last several decades.
No matter how durable your gutters are, it's important to prevent damage. If you need to use a ladder to reach your home's exterior walls or roof for any reason, lean it against surfaces away from your gutters to avoid unintentionally breaking or cracking your gutters.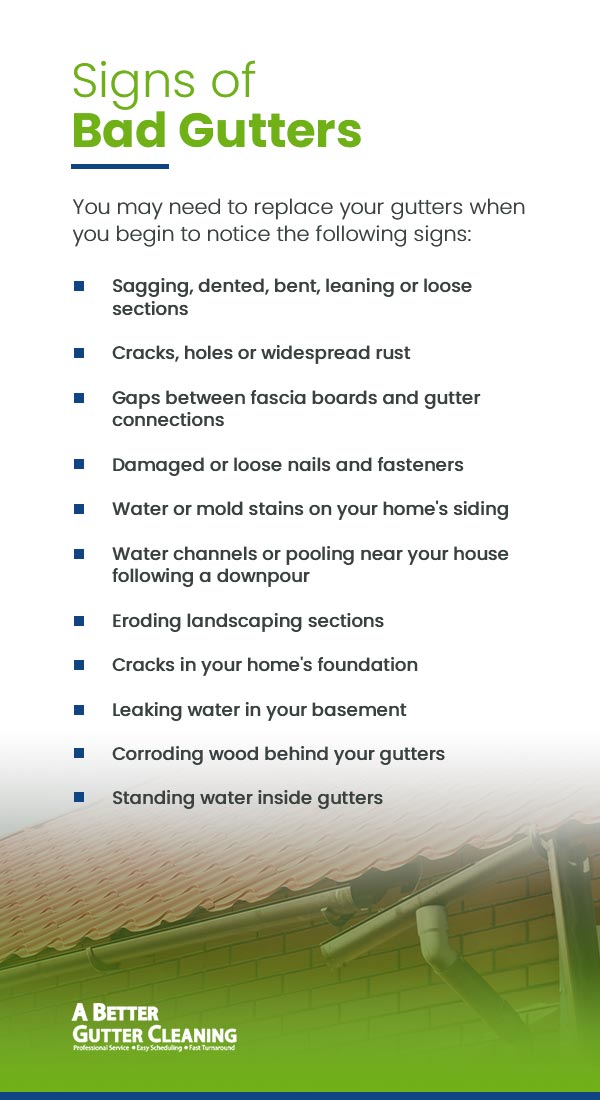 Signs of Bad Gutters
It's important to notice signs of damage or wear and replace gutters before they allow water to damage your home. You may need to replace your gutters when you begin to notice the following signs:
Sagging, dented, bent, leaning or loose sections
Cracks, holes or widespread rust
Gaps between fascia boards and gutter connections
Damaged or loose nails and fasteners
Water or mold stains on your home's siding
Water channels or pooling near your house following a downpour
Eroding landscaping sections
Cracks in your home's foundation
Leaking water in your basement
Corroding wood behind your gutters
Standing water inside gutters
If you notice water puddles or damage on your home's exterior walls, it's crucial to replace your gutters as soon as possible. This is a sign they are not collecting and diverting water properly, which means most of it is flowing down your home's siding. When excessive rainwater collects on or flows down your home's roof and walls, your gutters are beyond repair and need to be replaced to prevent damage to your home.
You may also notice your gutters sagging or leaning to the side, indicating damage. Additionally, damaged gutters may lose nails or fasteners, and gaps between gutter connections and fascia boards may form over time.
Some simple measures can help you monitor the health of your drainage system. You can also have a professional inspect your system for any damage and offer guidance. When you schedule a cleaning with A Better Gutter Cleaning, a member of our team will provide their expert advice and let you know when your system needs to be replaced.
Why It's Important to Replace Gutters
Gutter replacement is important because your home needs an effective drainage system to protect it from harmful water damage. Without quality gutters, you could experience the following issues on your property:
Driveway and sidewalk cracks: Poor drainage can cause water to flow under your driveway and sidewalks, shifting or cracking the asphalt and concrete. Repairing cracks or relaying walkways can become expensive, so investing in a quality gutter system can save you from more costly repairs.
Roof damage: Without quality gutters, water can collect on your roof and cause leaks in your home's frame, roof and fascia.
Mold: Water leaks can facilitate mold growth and cause interior walls to rot, leading to potential health complications and costly home repairs.
Landscape erosion: Undiverted water can overwater and kill plants, attract undesirable pests and wash away mulch. This can lead to unwanted repair costs and damage your home's attractiveness if you ever list it on the market.
Basement flooding: Without a proper gutter system to divert water away from your house, it can flood your basement.
Foundation damage: Basement flooding can cause your home's foundation to crack. Cracks in the foundation can shift your home's structure and make it unsafe to live in or create easier entry points for insects.
Replacing your home's gutters helps your home remain in good shape. Quality gutters will help you keep your house and basement dry, your driveway free of cracks and your beautiful landscape free of water channels and erosion.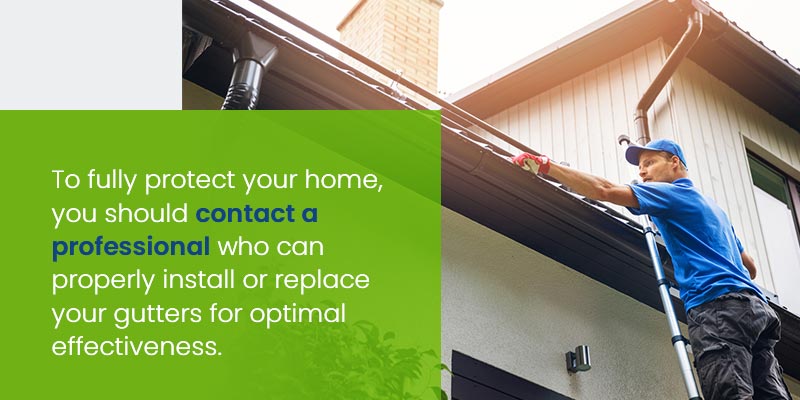 How to Replace Your Gutters
Gutter replacement is as simple as contacting a trustworthy company to install new, quality gutters on your home. To fully protect your home, you should contact a professional who can properly install or replace your gutters for optimal effectiveness.
A Better Gutter Cleaning provides gutter installation services to ensure your home is protected. We install only the best gutters made of 5 or 6-inch seamless aluminum with large 3-by-4-inch downspouts. When you trust A Better Gutter Cleaning to replace your gutters, you can choose from over 20 colors and find the one that best complements your home.
If you are looking for extra protection, we can also install effective gutter guards to keep debris out of your gutters. Our trustworthy team will service your home like it's our own and install only the best protection so you can rest assured your home is safe from damage.
Replacing your gutters is quick and easy when you hire a professional to install your new system. You will save money on gutter repair costs with quality gutters and protect your home from potential damage.
How Long Does It Take to Replace Gutters?
Gutter replacement typically takes one to four hours to complete, but this number can vary based on a home's size and specific gutter needs. A Better Gutter Cleaning will consult with you to determine the best options for your home, and we will provide fast and reliable services to install your gutters efficiently.
Our services are fast and convenient, and we will provide a time window so you know when to expect us. We can install gutters while you are home or away, so you can resume your normal schedule and routines as usual. We do our best to ensure your gutter replacement goes quickly and is as minimally disruptive as possible.
Regular Gutter Maintenance Is Key to the Longevity of Your Gutters
Schedule cleaning at least twice a year to keep your gutters in good condition. Well-maintained gutters will function effectively, and regular maintenance is the key to your system's longevity. Taking care of your drainage system will protect your home and landscape from water damage, prevent mold, keep water out of your basement and safeguard your driveway from cracks.
Regular cleaning: Clean them in the spring and again in the fall after the trees lose all of their leaves. While cleaning your gutters, you or a professional can check them for any signs of underlying issues.
Home inspections: When gutters become clogged, water can collect in your basement and lead to mold, so checking your basement periodically can help you notice when your gutter system needs a replacement. Keep an eye on your landscape for signs of erosion or water channels. Excess water can collect on your landscape and flood or wash away sections of it. Check your property and drainage system periodically, and look for water stains on your home's siding. Visually inspect your gutters often for cracked or sagging sections.
Sealant protection: Consider applying a sealant to your gutter's corners every five years to prevent leaks — talk to your gutter professional for more information.
Preventive care: Prevent potential gutter damage by using gentle cleaning solutions to power wash your house. You can also prevent debris such as leaves from damaging your gutters by installing leaf guards or cutting down vegetation hanging over your roof.
Taking these maintenance steps and understanding cleaning tips to prolong your gutters' life span is important, but what's most important is scheduling professional gutter cleaning service and maintenance. When you schedule a professional cleaning, certified cleaners can detect underlying issues and recommend corrective solutions.
A Better Gutter Cleaning offers professional cleaning and maintenance services to thoroughly remove debris from your gutters and roof. When you trust us to clean your gutter system, we also inspect and clean your downspouts to ensure they function effectively and divert water as they should. After removing debris, our team will clear your home and landscape of the debris so we leave your property spotless.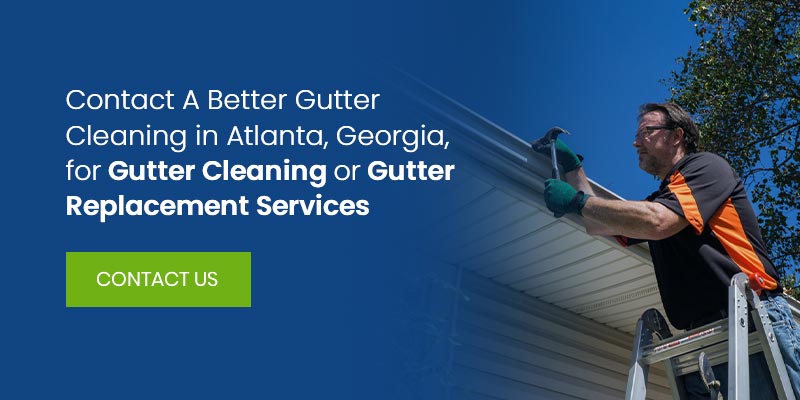 Contact A Better Gutter Cleaning in Atlanta, Georgia, for Gutter Cleaning or Gutter Replacement Services
Your gutters are important. They safeguard your home's roof, interior, exterior walls, basement, landscape, driveways and sidewalks. A high-quality and well-maintained gutter system can help protect your home from leaks, water collection, mold, foundation cracks and landscape erosion. The life span of your gutters depends on their quality, installation and how well you maintain them.
Maintaining a quality gutter system is simple and easy with A Better Gutter Cleaning's services. From installation to cleaning, A Better Gutter Cleaning will ensure your gutter system functions effectively and offers the greatest home protection possible. We install high-quality seamless gutters to meet your home's needs, and we offer only the most effective gutter guards on the market to ensure your investment provides long-term home protection.
Trust our team to clean your gutters thoroughly and inspect them for any damage. You can relax while we take care of this important task, resting assured your gutters will function to provide the best protection possible.
You can expect effective cleaning, quality gutter replacement services and lasting results when you trust A Better Gutter Cleaning for your gutter cleaning and replacement needs. Contact us to learn more about our services or request a free quote.
Share: