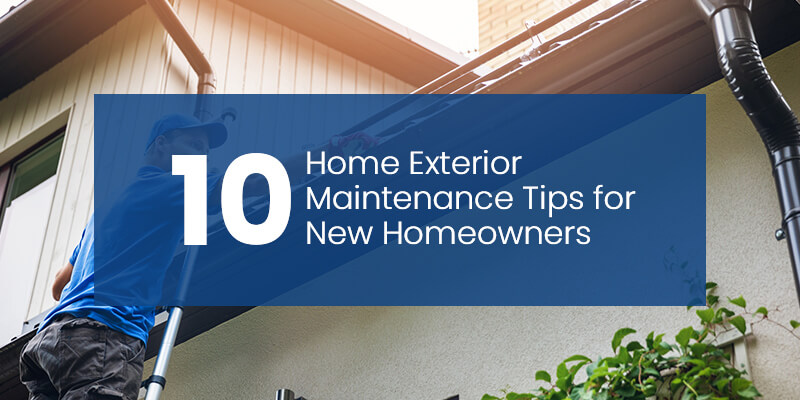 Are you a new homeowner? Owning a home is an exciting accomplishment and a valuable investment — one you likely want to take good care of. But with all the time and know-how that home maintenance requires, it can seem daunting. We've created a list of exterior home maintenance tips for new homeowners to make the task a bit more manageable.
1. Inspect Your Home's Exterior
Walk the perimeter of your new home quarterly and keep your eyes open for any areas that might need attention. A good way to stay on schedule is to do an exterior home inspection at the turn of each season. As you walk around, check the foundation of your home for cracks, the exterior walls for damage or staining and the roof for missing shingles. You may be surprised at how easy and helpful it is to catch a problem before it becomes a major issue.
2. Maintain Exterior Paint and Remove Wood Rot
Your home's exterior paint adds more than curb appeal — it also serves as a moisture barrier. Keeping your paint in good shape can help keep your home dry. If you spot chipping or peeling, give the paint a touchup as soon as possible.
If your new home has wood siding, look it over for signs of discoloration or swelling. Paint can camouflage wood rot, so use a screwdriver to test the wood's integrity. If it isn't firm and hard, you may have a wood rot problem. Wood rot can be treated if the damage isn't too extensive. Repair typically includes drying the wood and treating it with a wood preservative.
3. Wash the Exterior
You should wash the exterior of your home one to two times per year. Power washing can remove months or even years of dirt and grime from your siding, protect it from mold and mildew and give it a fresh, clean appearance.
Once you've familiarized yourself with how to use your power washer safely, start by washing from the highest point you can reach, moving the hose from side to side and working your way down the house.
4. Look for and Remove Pest Infestations
Pests use cracks, crevices and gaps in your home's exterior to nest and gain entry to your house. If you notice any of these areas, inspect them for signs of a pest infestation and remove what you can. Signs may include nests, droppings, dead bugs or rodents or the pests themselves. Seal up or repair the pests' entryway to prevent them from returning. You can also use a reliable pest control company to keep your new home pest-free.
5. Clean Your Home's Gutters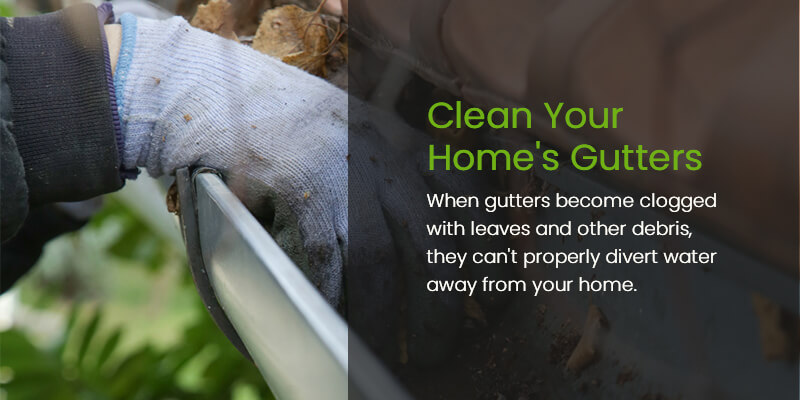 Gutters are vital for controlling the flow of rainwater that reaches your home, protecting the roof, siding and foundation from moisture. When gutters become clogged with leaves and other debris, they can't properly divert water away from your home. Instead, rainwater will spill over the sides of your gutters and may cause:
Foundation damage
Structural problems
Mold and mildew
Basement flooding
Use a ladder to clear your gutters of debris at least twice a year (or more often, depending on how many trees are near your home). This is also a good time to ensure your gutters are in good working order. Alternatively, consider hiring a gutter cleaning service to manage your gutters for you.
6. Care for Windows and Skylights
Regular maintenance is essential to keep your windows and skylights operating efficiently. Inspect them yearly and after major storms for any imperfections. You may notice leaks, cracks in the materials or paint, weather-stripping damage or difficulty turning the cranks or sliding the sash.
Pay special attention to the caulk or sealant around your windows or skylights. This material helps keep windows watertight. If the caulk or sealant is broken, missing or otherwise damaged, water could leak into your home and cause further damage.
7. Clean and Inspect the Front Door
You should clean and inspect your front door at least annually. To clean it, simply wipe it down with a gentle cleanser like wood polish, dish soap or baby shampoo. As you're cleaning, take note of any damage to the door, hardware and weather stripping. Damage can affect the integrity of the door and its ability to insulate your house.
8. Inspect the Roof
Use a ladder to survey your roof annually for any missing or broken shingles, stains or sagging areas. You can also remain on the ground and use a pair of binoculars for a safer alternative. A gutter cleaning service or handyman may be able to repair or replace faulty shingles, while you should call a professional roofer for more extensive damage.
9. Maintain Landscaping
No matter what kind of landscaping you have, maintaining it will help it flourish and reach its full potential. Here are a few basic ways to keep your yard in top condition:
Prune your shrubs
Shape your hedges
Remove weeds
Water when necessary
Rake and remove leaves
Cut your grass weekly in season
10. Keep Your Porch and Driveway Free of Debris
Yard debris like leaves, sticks, pinecones and grass clippings can accumulate and leave the exterior of your new home looking cluttered and messy. Sweep off your porches and blow your driveway clean to maintain a tidy appearance.
How to Get Ahead of Your Home Maintenance To-Do List
Owning a home is a significant responsibility, but putting in the time and effort to maintain it will make your investment worthwhile. Caring for your home as a new homeowner can seem overwhelming, but a home maintenance checklist can make it more manageable.
Using the home maintenance tips in this post, organize the tasks by frequency — which ones to do monthly, quarterly, biannually and annually. Alternatively, you can create a seasonal home maintenance checklist and group the tasks by season. For example, spring and summer may include regular lawn care and gardening. In contrast, fall and winter may include removing leaves, shutting off irrigation, closing the pool and insulating the pipes.
Consider hiring a professional for maintenance tasks that are complicated, dangerous or time-intensive, such as cleaning the gutters and inspecting windows and skylights. Exterior home maintenance services can help make home maintenance more manageable, bringing you peace of mind.
At A Better Gutter Cleaning, we handle more than just gutter cleaning. We also repair and replace gutters, clean windows and skylights, patch rooves and blow leaves from your porch and driveway. Our professionals can knock several items off your home maintenance checklist with one visit!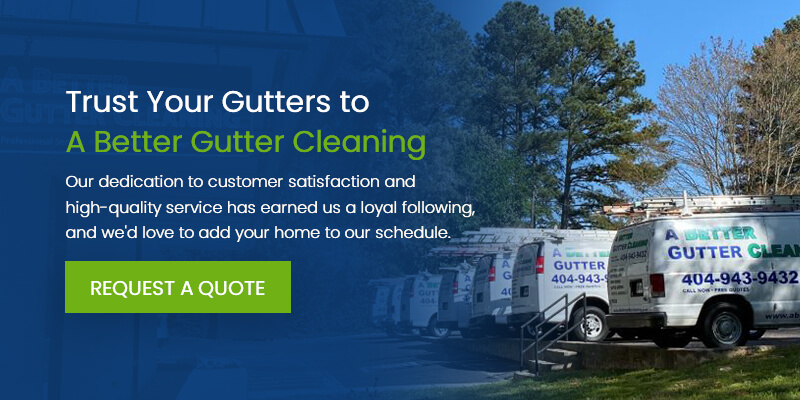 Trust Your Gutters to A Better Gutter Cleaning
A Better Gutter Cleaning provides professional gutter cleaning and repair services to Atlanta and the surrounding areas. Our dedication to customer satisfaction and high-quality service has earned us a loyal following, and we'd love to add your home to our schedule. If you're ready to hand your gutters over to the professionals, request a quote today.
Share: